Delaware Mail Forwarding Service
You can SAVE $25 on our set-up fee.
Use discount code: SAVE25 at checkout. This offer is only good for a limited time!
---
---
---

3 Service Plans to Meet Your Needs
*In addition, we charge a handling fee of $4.95 per forwarding plus USPS postage.

DeLAWARE mail forwarding service
As low as $95 per year!
In this section, we'll explain who uses a mail forwarding service, how the service works and pricing plans available.
Are You Running a Business, Traveling or Moving?
Now you can get a Delaware address for your business or personal use. If using for your company, you can project a professional image by using our commercially-zoned address.
We specialize in ensuring wherever you are and whatever you are doing, you'll always keep in touch with family, friends and business associates.
We cater to people and businesses working in remote areas; businesses requiring a Delaware mail forwarding service; businesses requiring a Private Mail Box (PMB); or for any other reason that you may be away from home or office for a period of time.
Whether you are a business looking to portray a prestigious image or a private individual on the move needing a fixed address, we have a variety of addresses to suit all situations. Your mail forwarding service is the only mailing service you will ever need and your mail will follow you wherever you are in the world.
International Mail Forwarding Service: For people living abroad, traveling or working in multiple locations, receiving mail can be tricky and there's the risk of it being forwarded to an old address. With a Delaware mail forwarding service account you can access your mail wherever you are in the world. We offer one of the best mail forwarding services for expats.
Our business mail forwarding services are perfect for people and businesses on the move. A Delaware mail forwarding service account allows you to decide what you want to do with any piece of business correspondence we receive at our address.
RV mail forwarding services available: Now your mail can follow you wherever the open road takes you. We provide friendly, professional services to part-time and full-time RVers.

How Our Delaware Mail Forwarding Service Works
When you subscribe to one of our mail forwarding services, we assign to you your own Private Mailbox Number (PMB) at the Capitol Office Center street address in Wilmington, Delaware, USA.
Use your Delaware, USA mail forwarding address on any of your business correspondence including your letterhead and marketing materials and even your website and business cards.
We will forward your Delaware mail to you--anywhere in the world--by US First Class Mail or by express courier (FedEx, DHL, etc).
We will forward mail once per week at the end of the week.
For our Delaware Mail Forwarding Service, we do NOT accept parcels of any size. If you would like to receive packages and parcels plus business mail, please consider our Delaware Package Forwarding Service.
Postage is charged at USPS postal rates PLUS a handling charge of $4.95 per mailing. Cost of postage & handling for forwarding will be charged to your credit card on account.
Scan Preview is FREE (optional). We will scan the outside of the envelope and send to you via email for further instructions.
Open and Scan contents and email is charged at $0.49 per page scanned. We will open the mail piece and scan every page. We will scan the outside of the envelope as well as the contents.
Bulk mail (junk mail) will NOT be forwarded. All bulk mail is discarded.
We are NOT a PO Box service. Our address is a commercially-zoned address. If you need a PO Box, please check with your local USPS office.
You do not have to use DBI as your Registered Agent to take advantage of our mail forwarding service.
Do you need a Delaware Virtual Office with Mail Forwarding and Delaware Phone Number? Check out our Virtual Office services. We offer two different service levels: Suite Number and Lease OR PMB number only.
3 Service Plans to Meet Your Needs
*In addition, we charge a handling fee of $4.95 per forwarding plus USPS postage.
We hope this information was beneficial to you. If you have any questions, please do not hesitate to call us at 1-800-423-2993 or 302-996-5819. Thank you for your interest in Delaware Mail Forwarding Service.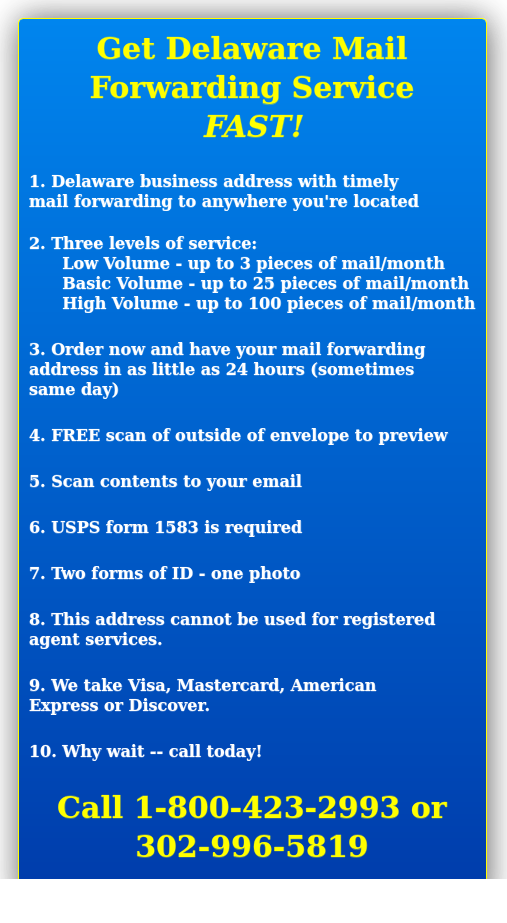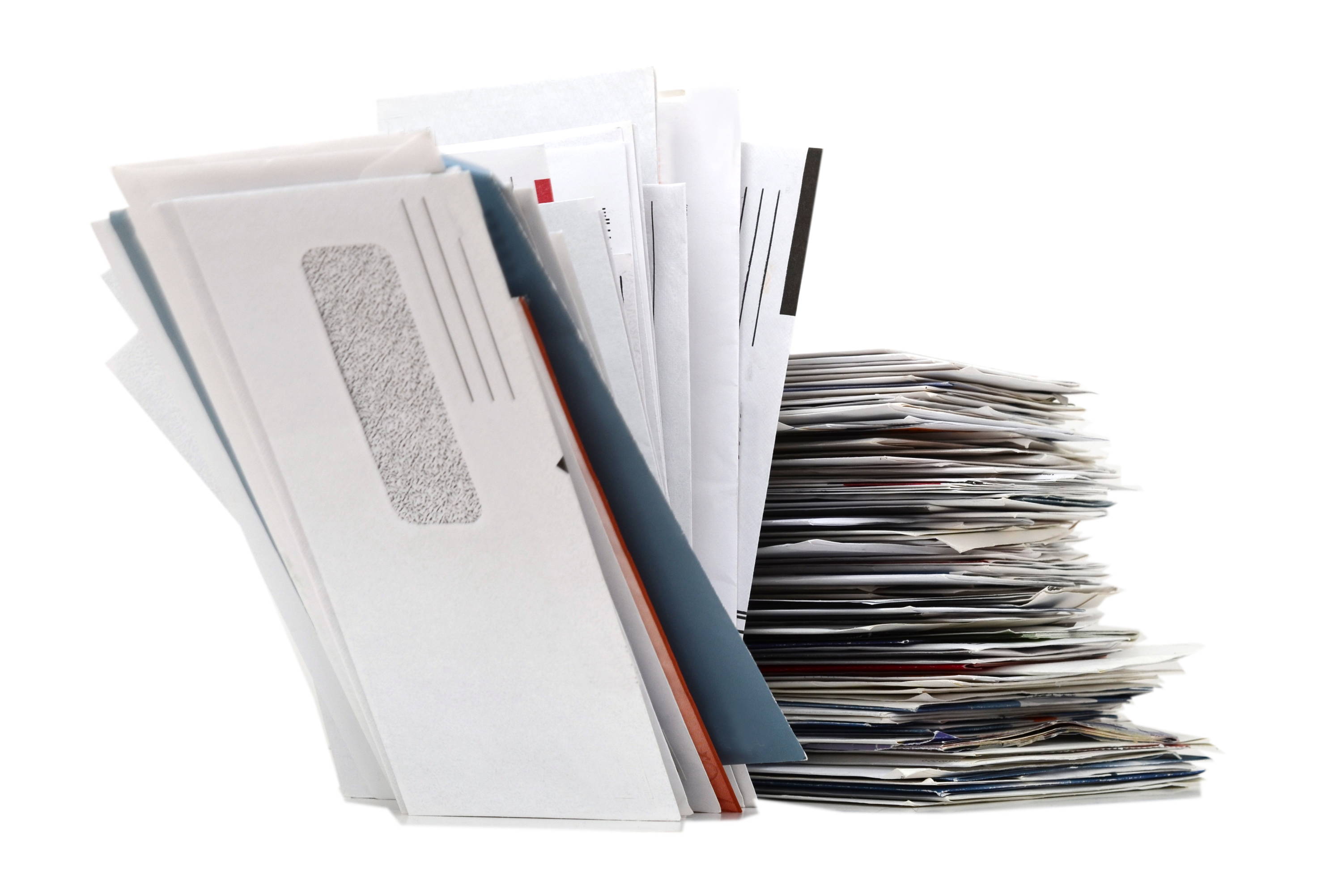 ---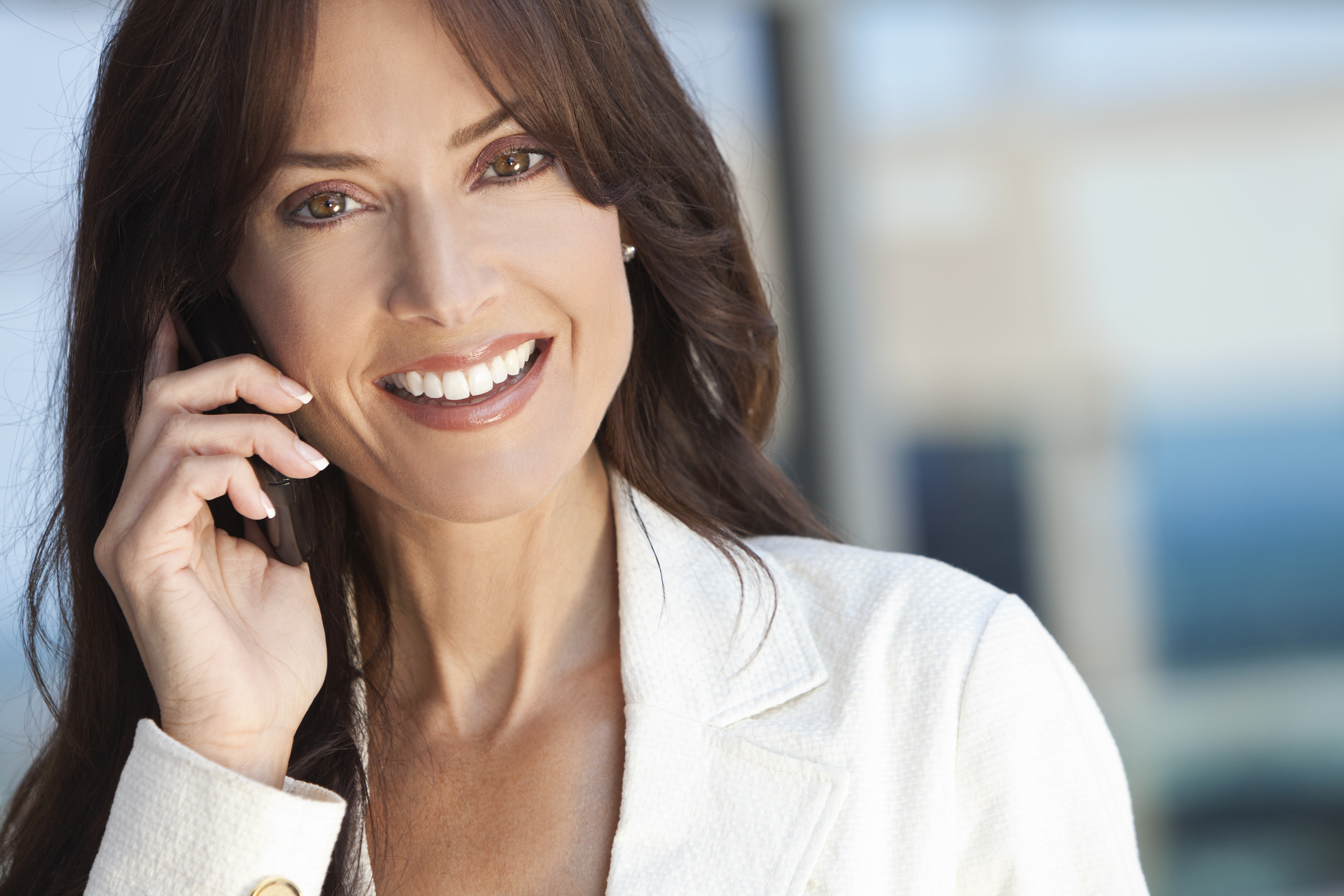 ---
---
Included in all incorporating services:
Company Name Check Verification & Availability
Preparation & Filing of Articles of Formation
Same Business Day Processing
Registered Agent (1st Year FREE)
Email Reminders & Alerts
Lifetime Customer Support
---
---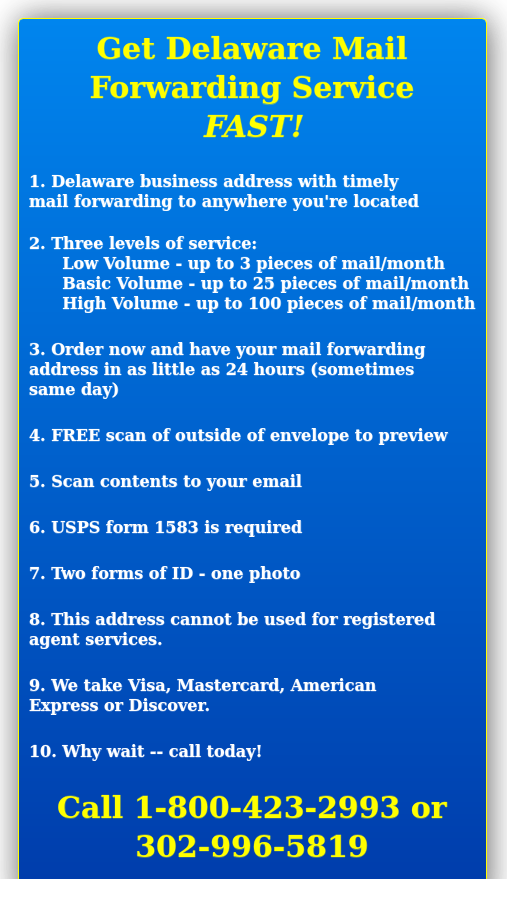 ---
Start Your Business Today for Only $50.00 Plus State Filing Fees.