Delaware Apostille Service
Delaware Apostille Service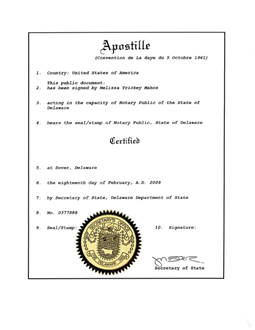 Whenever an apostille (pronounced "ah-po-steel") is requested for documents that have been filed with the Delaware Secretary of State, each document must be certified separately.
Documents that have been certified under a one-cover certification are not acceptable for the issuance of the apostille.
Any document that is in a foreign language must have the English translation attached to it. The English version must be notarized.
Official signatures
The Delaware Secretary of State, Division of Corporations also provides authentication of Delaware public officials' signatures on documents.
If the document is to be used outside the United States, the country of destination determines whether the certification is an apostille or authentication.
The Apostille and other verifications are prepared by the Delaware Secretary of State, Division of Corporations for a fee of $30.00 per document for Commercial use or for Personal use (i.e. adoption, birth/death certificates, etc.) $30.00 for all documents submitted on the request.
A certificate of authentication is affixed to documents intended for countries that are not party to the Hague Convention.
Apostilles require no further diplomatic or consular legalization, while certificates of authentication must first be processed by the U.S. Department of State before being sent to countries that are not party to the Hague Convention.
Hague Convention
The Hague Convention Abolishing the Requirement of Legalisation for Foreign Public Documents, the Apostille Convention, or the Apostille Treaty is an international treaty drafted by the Hague Conference on Private International Law.
It specifies the modalities through which a document issued in one of the signatory countries can be certified for legal purposes in all the other signatory states.
Such a certification is called an apostille (from Latin post illa and then French: a marginal note).
It is an international certification comparable to a notarisation in domestic law, and normally supplements a local notarisation of the document.
See if your country is a member of the Hague Convention. List of countries in the Hague Convention.
Procedure
Apostilles are affixed by Competent Authorities designated by the government of a state which is party to the convention.
A list of these authorities is maintained by the Hague Conference on Private International Law.
Examples of designated authorities are embassies, ministries, courts or (local) governments.
For example, in the United States, the Secretary of State of each state and his or her deputies are usually competent authorities.
In the United Kingdom, all apostilles are issued by the Foreign and Commonwealth Office in Milton Keynes.
To be eligible for an apostille, a document must first be issued or certified by an officer recognised by the authority that will issue the apostille.
For example, in the US state of Vermont, the Secretary of State maintains specimen signatures of all notaries public, so documents that have been notarised are eligible for apostilles.
Likewise, courts in the Netherlands are eligible of placing an apostille on all municipal civil status documents directly.
In some cases, intermediate certifications may be required in the country in which the document originates before it will be eligible for an apostille.
For example, in New York City, the Office of Vital Records (which issues, among other things, birth certificates) is not directly recognised by the New York Secretary of State.
As a consequence, the signature of the City Clerk must be certified by the County Clerk of New York County to make the birth certificate eligible for an apostille.
In Japan all the official documents are issued in Japanese language, Ministry of Foreign Affairs (MOFA, JAPAN) then provides an apostille for these documents.
In India the apostille certification can be obtained from the Ministry of External Affairs in New Delhi, after authenticated by the administration of the Indian state where was issued the document (for educational documents).
Eligible documents
court documents
administrative documents (e.g. civil status documents)
notarial acts
official certificates which are placed on documents signed by persons in their private capacity, such as official certificates recording the registration of a document or the fact that it was in existence on a certain date and official and notarial authentications of signatures.
Delaware Business Incorporators can process any Delaware apostille or legalization request.
We hope this section was helpful to you. If you have any questions, please do not hesitate to call us at 1-800-423-2993 or 302-996-5819. Thank you for your interest in Delaware Apostille Service.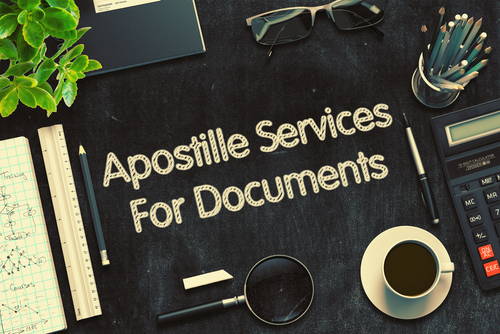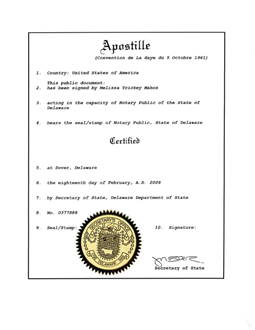 ---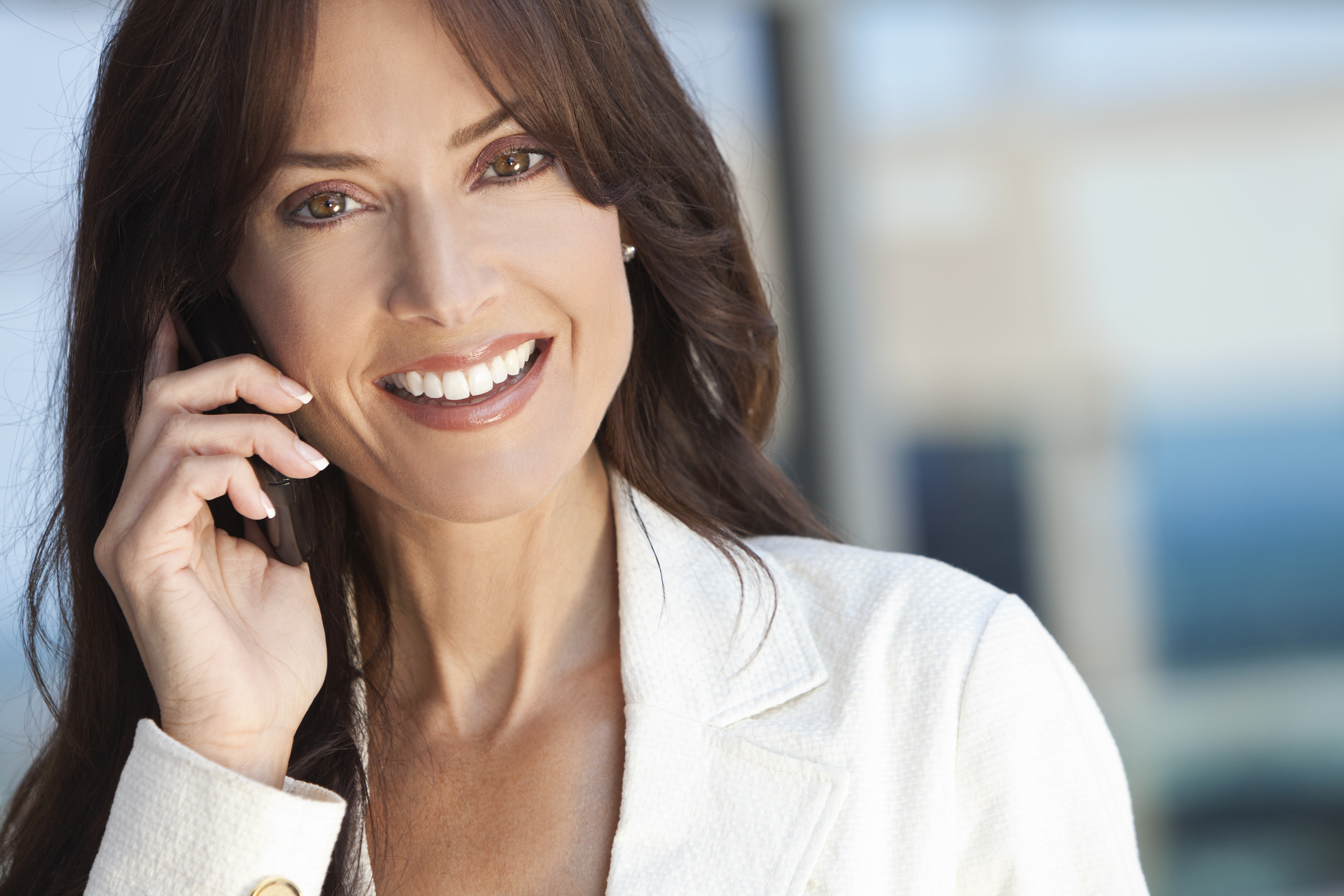 ---
---
Included in all incorporating services:
Company Name Check Verification & Availability
Preparation & Filing of Articles of Formation
Same Business Day Processing
Registered Agent (1st Year FREE)
Email Reminders & Alerts
Lifetime Customer Support
---
---
---
Start Your Business Today for Only $50.00 Plus State Filing Fees.